In Sharon's Guitar Academy You will learn guitar from the ground up. And have fun while your doing it. With Step by Step Instruction and proven methods to get you playing fast.

Featured Guitar Lessons
Helping You Find Your Sound
Save on Lessons Today!
For a Limited time you can Save 25% on your selected course. When You Use Coupon Code Sale25 during check out.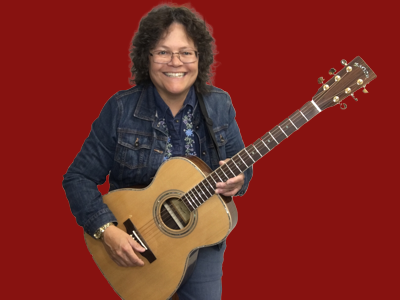 My name is Sharon, AKA "YourGuitarGuide", I'm the Founder of YourGuitarGuide.com. And I'm passionate about music and playing the guitar. My goal is to guide you through this realm we call music. By promoting, educating, and with some humor.
YourGuitarGuide has been playing guitar for over 30 years. Music has always been a passion of mine. And as My Motto goes I want to "Help You Find Your Sound" with music & guitar lessons.
"I had wanted to learn to play the guitar for years. I signed up for Beginner Guitar Bootcamp not knowing what to expect. It is a self-paced course that has taught me everything from how to hold the guitar and pick to the anatomy of the guitar and all of the chords. Awesome course easy to understand and best of all you learn at your pace. Thanks GuitarGuide!"
ROTC TEACHER; Darryl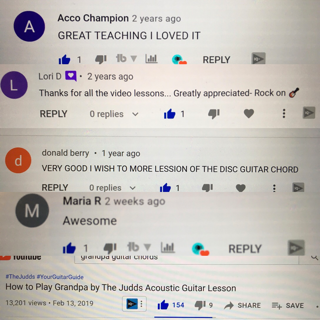 See why so many guitar players are raving about this training
"Great Teaching I Loved it."
"Awesome"
"Thanks for All the Lessons, Greatly Appreciated."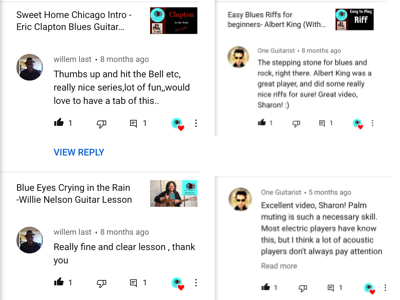 I'm glad I stumbled across this course. Lot's of good stuff, for a new guitar player. Really Fine and Clear Lesson, Thanks! Excellent, The Stepping stone for blues and Rock.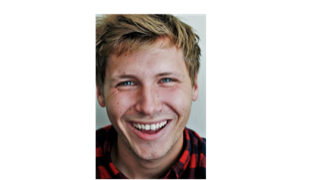 Informative Lesson's that Make a Difference
I'm a subscriber to your YouTube channel. So decided to give your online course a shot, since it was guaranteed I had nothing to lose, I was impressed with this course.. I found it very informative. Is this a course I would recommend to a friend? Yes, if they wanted to learn guitar absolutely.
Thanks, Boomer
Check your inbox to confirm your subscription